The first annual Castro Adobe Stewardship Dinner was held Nov. 15 at the Kimbro House. The sold-out event honored Castro Adobe stewards Edna & Joe Kimbro and Jim Toney, three preservation visionaries who worked tirelessly to save the Castro Adobe as a unique community asset while building support for a future State Historic Park to be enjoyed for generationsto come.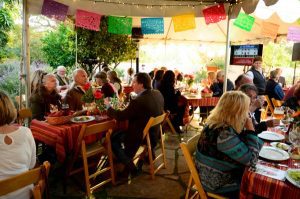 The afternoon event began in the newly restored Potter-Church Garden at the Castro Adobe. Guests mingled while Gonzalo Rodriguez performed on the harp. Later, the reception moved to the Kimbro House, the planned to be the future home of the State Park's Visitor Center and the Edna Kimbro archives.
Fred Keeley acted as Master of Ceremonies and several people spoke while Monterey Bay Caterers served a rancho-themed meal. Sharing their thoughts on the preservation and restoration of the Castro Adobe were Charlie Kieffer, a Castro family descendant; Tony Crosby, a preservation architect who specializes in earthen architecture; Bonny Hawley, executive director of Friends of Santa Cruz State Park; and Charlene Duval, a public historian who serves as chair of the Kimbro House Committee.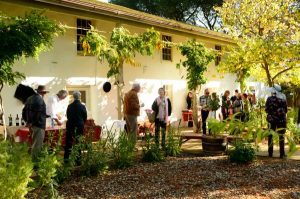 The event concluded with a special video from 1988 featuring Edna Kimbro discussing and reflecting on her overall vision for the property. Friends is thankful for everyone who attended the event or helped make the dinner possible.
We look forward to making this event a tradition by which to recognize stewards of the Castro Adobe while updating on progress made as we move forward in opening Santa Cruz County's newest State Park!