A custom replica 19th Century "Californio" saddle was unveiled at Castro Adobe State Historic Park during the April open house event.
San Juan Bautista State Historic Park docent John Grafton crafted the period-specific saddle especially for the Castro Adobe. He attended the open house to demonstrate the materials, tools and techniques he used, and visitors got to try their hand at leather-working with him.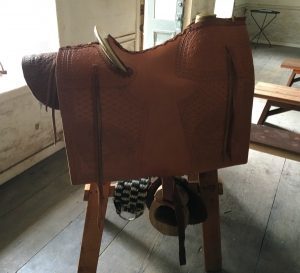 Much like the Castro family who built the adobe, John Grafton has made cattle a way of life. His childhood and early career took him to ranches throughout the West—of both North and South America. During and after a later career in law enforcement, John developed a relationship with California State Parks as a docent specializing in hands-on demonstrations of the horse culture of early California.
He currently volunteers at San Juan Bautista State Historic Park, where he does blacksmithing, leather and rawhide work, and woodworking — and combines these activities with interpretation of the material and social culture of the early Californios. Grafton said he started volunteering at Sutters Fort in Sacramento and, when the park's administration learned he had a background in ranching, he was encouraged to create an interpretation of a Californio saddle.
"That has led me to research and attempt to make accurate representations of the early Californio saddle, and the Castro Adobe saddle is my latest effort in this ongoing project," Grafton said."May it serve to increase our understanding, appreciation and enjoyment of our Californio heritage. "
The saddle was commissioned by an enthusiastic supporter of the park who said, "I'm very pleased to donate it to the Castro Adobe organization…. (I feel) it is important for visitors to have a visual sense of an early California saddle from the era of the Castro Adobe. Saddles have changed through the years to meet various needs, but aspects of our early California saddles remains the same."
Basics of saddle:
Tree – hand carved out of Douglas Fir wood.
Stirrups – hand carved from local oak wood.
Leather Coverings – all have an individual purpose. All imprinted by hand made tools with floral and geometric motifs known in the mid-1800s era.
Spring will bring two more opportunities for the public to visit the Castro Adobe and view the saddle — as well as the restored cocina (kitchen), Potter-Church garden and more. Join us for "A Founding Family of California," the story of the Castros' arrival in California as told from the perspective of Spanish explorer Juan Bautista de Anza, 11 a.m. to noon, Saturday, May 21. The next Castro open house event will focus on life at the adobe after the Castros. The park will open for "The Castro Adobe in the 20th Century" from 11 a.m. to 3 p.m., Saturday, June 11.