A visit to the Castro Adobe in Watsonville immerses students in our community's story from the heyday of the vaquero to the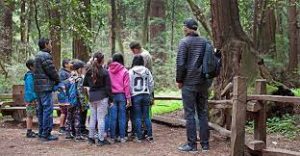 aftermath of the Loma Prieta earthquake. Hands-on, sensory experiences bring more than a century of history to life, while guided investigations of students' own inquiries make learning personally relevant. You don't need to leave the Pájaro Valley to touch a real adobe and connect with California's colorful past.
The free tours are 2.5 hours long and offer curriculum that supplements teaching of third grade (local history) and fourth grade (California history) content standards. Email Interpreter Joseph Carr Ritchie or call 831-226-9669 to schedule a visit.
Learn more about field trips to local State Parks and Beaches.