California State Parks Guided Backpacking Adventures
Space still available!
Registration is open for the California State Parks Backpacking Adventures (CASPBA) program, which will offer four guided backpacking tours in the Santa Cruz Mountains this summer.
Led by experienced backcountry naturalists, the CASPBA trips are enjoyable for novice and advanced backpackers alike. Trips are tailored to each group's skill level, including night hikes for the active and native plant teas for the relaxed.
2023 Schedule
The California State Park Backpacking Adventures program is made possible by California State Parks, Friends of Santa Cruz State Parks, Waddell Creek Association, Mountain Parks Foundation, Sempervirens Fund, and Portola and Castle Rock Foundation.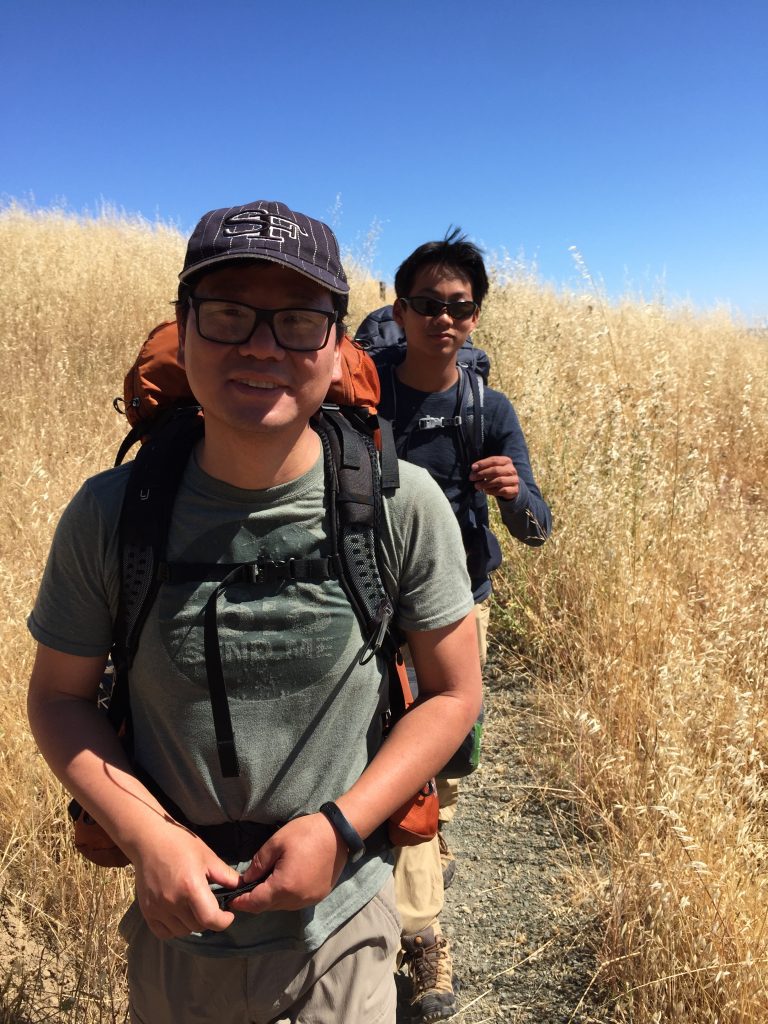 More information
What do I bring? CASPBA participants are responsible for bringing their own backpack with waist straps, tent, sleeping bag and pad, and all of their food. (We recommend dehydrated "just add hot water meals" and other nonperishable food.) Backpacking participants should also bring warm layered clothing, rain gear (weather dependent), sun protection (sunscreen, hat, sunglasses), water bottles or hydration reservoirs (to carry at least 3 liters), eating utensils (cup, bowl, spork), headlamp or flashlight, personal medications, basic first aid kit, personal hygiene items (soap, toothpaste, hand sanitizer, toilet paper, etc.).
A more comprehensive packing list can be found on CASPBA Packing List website.
Participants also must arrange their own transportation to the starting point of the hike.
What will be provided? Backpacking leaders will provide plenty of drinking water (filtered and/or treated), boiling hot water to prepare "just add hot water meals" (morning and evening) and coffee/tea, camp stoves and fuel (for boiling water), basic first aid items, and traditional teas.
What are the physical requirements for the hike? Participants must be able to hike 2-3 miles per hour with a 20-pound pack, and be prepared to hike up to 10 miles per day.
Are there age restrictions? Participation is open to adults 18 and older, and children ages 13-17 when accompanied by a parent or guardian.
What kind of shoes should I wear? Hiking boots or hiking shoes are recommended.
What facilities are available? Picnic tables, a grill, trash, recycling, bathrooms or showers? Stumps, logs, rocks and the ground are the primary facilities provided by the forest. Trail camps have pit toilets and some have picnic tables. Hikers must pack their trash.
What is the food situation? Participants must bring all their own food. We recommend dehydrated "just add hot water meals" and other nonperishable food. Here is a Sample 3 Day Menu.
How do we get water? California State Park staff leading the hike will provide plenty of drinking water (filtered and/or treated) throughout the entire trip. Please bring the capacity to carry 3 liters and full water bottles when meeting on the first day.
Can I bring alcohol or marijuana? Alcohol is not permitted on CASPBA trips. Smoking is not allowed on any trail or in any trail camp.
Do we have to carry everything ourselves? Yes, you must carry all of your own gear.
How much should my backpack weigh? Backpacks should weigh 20-25 pounds for trips of this distance in this region.
Can I bring my dog? Dogs are not allowed on any backcountry trail or in any trail camp unless they are trained service animals.
What if it rains? Weather-related cancellations or changes to these trips are not anticipated. In the case of park closures due to extreme and/or dangerous weather conditions we will issue refunds.
What if there's an emergency or someone gets hurt? CASPBA leaders are trained in wilderness medicine and we have established Emergency Response Plans to initiate in the case of an emergency or injury out on trail.
Can I charge my devices? Trail camps are primitive and without electricity. Participants may consider bringing a fully charged cell phone and perhaps small battery pack.
What kind of animals can we expect to see along the way? Santa Cruz State Parks are teeming with an abundance of wildlife including vibrant birds, colorful reptiles, active mammals, and snazzy insects. Remember, do not feed wildlife. Trail camps are equipped with food lockers to keep food safe from animals during the night.