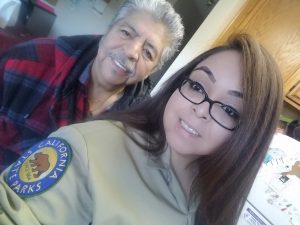 Yovania Paniagua recently started as an Interpretive Park Aide at the Castro Adobe. Yovania got connected with the Castro Adobe when she visited the park with her daughter's school field trip.
"I fell in love with the place," Yovania said, whose dad (pictured with her on her first day) played a big role in her love of the woods, the environment and educating people.
She started volunteering at the park in June of 2016 and officially started as a Park Aide in February 2017. Working for California State Parks has always been a dream for her. Yovania said she loves talking to visitors about the history of the park, meeting new people who share her interests and being outdoors all day. She also is bilingual and helps with translation for visitors. 
"I wanted to work at the Castro Adobe because I love the history behind it and it's right in my back yard," Yovania said. 
Castro Adobe State Historic Park is at 184 Old Adobe Road in Watsonville. The park which is undergoing a multi-year restoration effort led by Friends of Santa Cruz State Parks, is currently only open for prescheduled tours, monthly open house events and special celebrations, such as Vaqueros on the Rancho on May 6.