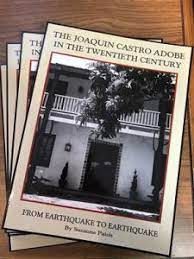 The long out-of-print title "The Joaquin Castro Adobe in the Twentieth Century: From Earthquake to Earthquake" by Suzanne Paizis will be available for purchase in the Friends of Santa Cruz State Parks pop-up ParkStore at Saturday's Castro Adobe open house. Varvara Paizis, daughter of the author, provided the books. The books will be sold for $25. (The books are so hard to find, copies have been listed for hundreds of dollars on Amazon.com.)
The open house, "Earthquakes and the Adobe," will be 11 a.m. to 3 p.m. Saturday at Castro Adobe State Historic Park. Learn more.
The book also will be available in the ParkStore at Santa Cruz Mission State Historic Park.