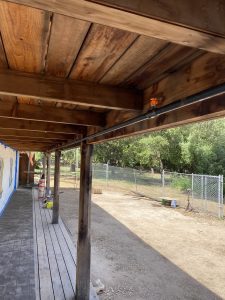 The new fire suppression system was installed in the Castro Adobe in summer 2020 by Rollins Fire of Soquel. Mandated by state fire codes, the new system was specially designed to protect the two-story adobe while minimizing visual impact on the historic fabric of the adobe.
Inside the building, the second floor the fire suppression system is almost completely concealed by the ceiling boards. However, the system is more visible on the first floor. There, an attempt was made to conceal the piping as much as possible from the visitor's direct view — pipes were hidden behind the steel beam, making not as visible from the front entrance.
Outside, the fire suppression is visible underneath the balcony and on the second floor. These pipes will eventually be painted to match the surrounding material and should "disappear" visually.
Much planning was completed beforehand to ensure that the smallest pipes were approved by the Fire Marshal to lessen the impacts visually to the historic fabric.
The fire suppression system will be connected to the new water tank supply soon.  Protecting the historic adobe in the event of a fire is a top priority.