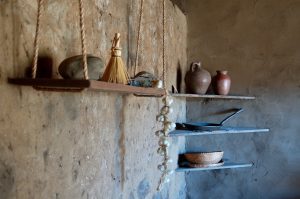 In November and December, using funding provided by a grant from the Community Foundation of Santa Cruz County, furnishings were procured for the Castro Adobe cocina (historic kitchen).
These historically accurate furnishings include a table, a zarzo (hanging shelf), a sarten (frying pan), batea (trencher dough bowl), a cazuela (earthenware stew pan), plates, forks and knives and even some appropriate fake food.
We will continue to furnish the cocina and soon pilot programs with school groups from Parajo Valley will experience a Mexican Rancho kitchen!