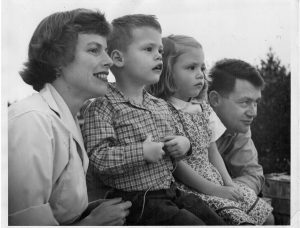 The Jowers, Castro Adobe stewards (1963-68), owned and lived in the Castro Adobe during the Bohemian era of the 1960s. The Jowers also were the proprietors of the avante-garde Sticky Wicket restaurant in Aptos, a center for Santa Cruz County's artistic community. The Jowers were instrumental in establishing the Cabrillo Festival of Contemporary Music and even held early fundraising events for the festival at the Castro Adobe.
Victor and Sidney Jowers led remarkable lives, part of them at the Castro Adobe. Victor – reporter, restaurateur, Londoner – and Sidney – author, costume  designer, New Yorker – loved the Old Adobe, as everyone called it in the 1960s. It was Victor's home  when he died at 39; it was the home Sidney left soon after when she moved with her two children to England, there to stay. For them, the Adobe was a celebration of culture, history and family, of the arts and of life.
Join us for a Bohemian-inspired gathering to honor Castro Adobe stewards from the past and celebrate recent progress toward opening the Castro Adobe State Historic Park at Boho Castro, the fourth annual stewardship event at Castro Adobe. Get tickets.
Step back into the 1960s at the Castro Adobe, a time when the Jowers family owned and cared for the property. Relive the Jowers' good times, when an eclectic ensemble of their artistic friends made the Castro Adobe a Bohemian center of arts and culture. We're honored to be joined at Boho Castro by Victor and Sidney's children, Laura and Andrew.
Stewardship Honorees to date
—2016—
Fred Webster, Castro Restoration Engineer
—2015—
Elizabeth & David Potter (1968-88)
—2014—
Edna & Joe Kimbro (1988-2001)
Jim Toney, Friends' Board Member & Castro Volunteer