After years of planning, design modifications, site preparation and funding procurement, the steel beam which will support the second floor was installed on Friday, May 13.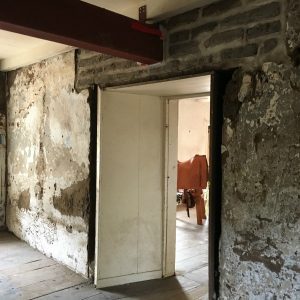 The beam was carefully brought into the building and inserted underneath the second floor joists by Sea Berg Metal Fabricators, Inc. The steel beam was cranked and lifted into the place, running the entire length of the adobe building.
Everyone on the site was ecstatic at the install of the beam and emotions ran high as the beam, so long in the planning, was finally installed. A long-term goal of the Castro Adobe renovations is to increase access for all. The beam strengthens the second floor of the historic structure, making it possible for a larger number of visitors to go upstairs.
This picture doesn't do it justice. Come see the beam for yourself at the next Open House Day , 11 a.m. to 3 p.m., Saturday, June 11.