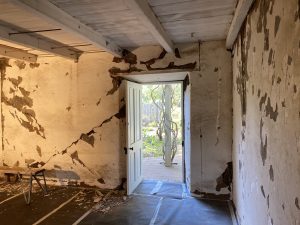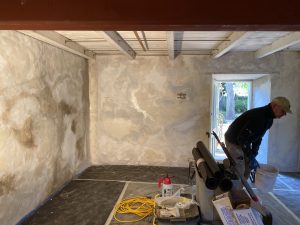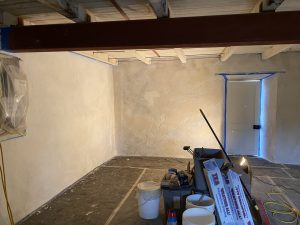 Beginning in March and taking over two months, the interior walls of both floors of the Castro Adobe were repaired and painted. The work was done by Ingram Plastering of Carmel, and the crew was careful to maintain social distancing requirements during the entire project.
Each room was skillfully finished to ensure the original texture and feel of the wall was retained while repairing any large voids and cracks in the walls. Contractors were also careful not to disturb historic finishes such as the painted baseboard and chair rail.  Much of the baseboard and chair rail had been damaged over time, so infill had to be completed and those painted finishes will be restored at a later date.
For each room, the walls first were prepped and scraped of all loose finishes.  Next, the cracks were filled with plaster and allowed to dry.  After that, the whitewash was applied in layers and allowed to dry.  Each wall has about 3-5 layers of whitewash.  Ingram Plastering worked on the exterior of the building as well.
The work was completed with a generous grant from the Monterey Peninsula Foundation and the Castro Adobe is looking great! (Check out all of these before, during and after shots of the first floor, the staircase and the fandango room on the second floor.)