Castle Rock State Park
About
Castle Rock State Park is a land of sculpted sandstone, lush forests and sweeping vistas. From one of the highest ridges in the Santa Cruz Mountains, park visitors enjoy hiking, backpacking and horseback riding. Rock climbers explore the park's caverns and rocks, including the namesake Castle Rock. Plant-lovers come for California black oaks, knob cone pines and high-elevation coast redwoods.
The park features more than 35 miles of rugged trails. Please review the trail map prior to visiting to plan your route.
The Castle Rock parking lot, which opened in 2019, features solar-powered pay stations, flush toilets, electric vehicle charging stations, a water bottle refill station and new trailhead signs.
Learn more in the California State Parks brochure.
Get more information on the California State Parks response to COVID-19 here.
---
Directions
Located on Highway 35, just 2 miles southeast of the junction with Highway 9. From San Jose or Santa Cruz, take Highway 9 to Highway 35. Turn south onto Highway 35. Drive about 2 miles and look for the park entrance on the right side of the road. From Highway 280 in San Mateo County, take Highway 92 west, then turn south onto Skyline Boulevard (Highway 35). Drive about 25.5 miles, to the junction of 35 and 9 (Saratoga Gap). Continue about 2 miles further south on 35, and look for the park entrance on the right side of the road.
---
Things to do
Rock Climbing
Climbers have been scaling Goat Rock, Castle Rock and Vaqueros Sandstone outcroppings for nearly a century. The sandstones relative hard exterior and unique tafoni patterns are ideal for bouldering and climbing.
Hiking and Backpacking
The park offers more than 35 miles of trails, many with steep and narrow slopes. The 5.6-mile Saratoga Gap and Ridge Trail Loop lead to Goat Rock, Castle Rock Falls, Russell Point Overlook, and the Castle Rock Trail Camp. Goat Rock Overlook provides panoramic views of the San Lorenzo Valley and the Pacific Ocean. The moderately difficult Ridge Trail is a potential place to see the endangered peregrine falcon. The Saratoga Toll Road, a historic logging road and stagecoach line from 1871, is now a well-shaded and graded hike offering some scenic viewpoints.
Picnic Area
The parking lot and the nearby native plant zone designed in partnership with the Amah Mutsun Tribal Band, have picnic tables and a pergola for shade.
Environmental Learning
Explore the interpretive exhibits.
---
Fees and Passes
Parking is $10 and supports the park. Credit card payments are encouraged.
Annual State Parks passes also are available to purchase at the entrance kiosk.
---
Services
Water bottle fill station
Flush toilets
Electric vehicle charging stations
Pay phone at parking lot and main backpack campground
Primitive hike to campsites for backpackers
Trails for horseback riding (call ahead)
Accessibility: The Castle Rock parking lot has ADA parking. Immediately adjacent to the parking lot are ADA-accessible bathrooms, picnic areas and interpretative signage.
---
Camping
The trail camps are open!

Two trail camps — Castle Rock with 20 primitive sites and Waterman Gap with 6 primitive sites — are available. Both camps have water and pit toilets. An inclement weather shelter at Castle Rock Trail Camp provides a roof during storms. The primitive campsites are for backpackers only and cost $15 per night. Limit six people per site. Reservations: Go online to learn more about trail camps.
Quiet hours are 10 p.m. to 6 a.m. daily. View the campground map here.
---
Field Trips
Registration for field trips is now open. Sign up!
---
History
Castle Rock State Park is in the unceded Ohlone village site known as Partacsi, whose inhabitants stewarded these lands since time immemorial. Centuries of colonial violence led to the removal and displacement of the Partacsi. Today, their descendants continue their stewardship and presence here, in partnership with State Parks.
Judge Joseph Welch of Santa Clara Valley purchased a 60-acre parcel on Castle Rock Ridge in 1908, when logging was still ravaging the hillsides. He established a precedent by opening his land for the public to enjoy its scenic vistas and rugged landscapes. With Welch's determination, Castle Rock soon became a popular tourist destination.
Dr. Russell Varian, a pioneer of X-ray and radar technology, spent much of his youth exploring and hiking the canyons near Castle Rock. Varian was the first to measure Earth's magnetic field, using some sites in today's park. In 1959, he secured an option to purchase this land and planned to donate it to California State Parks. Varian died before completing the purchase.
The Sierra Club and Sempervirens Fund later donated the land in his memory. Castle Rock was designated a State Park in July 1968. In 2011, Castle Rock was one of 70 State Parks set for closure by Gov. Jerry Brown. A partnership of Portola-Castle Rock Foundation, Save the Redwoods League, Peninsula Open Space Trust and Sempervirens Fund donated $250,000 to protect the park from closure.
---
The Castle Rock State Park Forest Health Initiative, funded by a CAL FIRE grant, is selectively thinning overabundant Douglas firs and brush to preserve black oaks and other hardwood tree species and reduce the risk of catastrophic fire in the Santa Cruz Mountains.
Black oaks are a rare and essential part of the Santa Cruz Mountains ecosystem that require active management to continue thriving. This initiative will protect black oak woodlands, and many other fire-dependent plant communities as well as the animals that depend on them. This is the first step towards restoring a historically biodiverse landscape that was carefully tended by native Ohlone people prior to European colonization.
---
Regulations
Campgrounds are "Crumb Clean." Visitors are required to watch this short video about the impact your food has on park wildlife.
Dogs are not permitted in the park.
Glass containers and smoking are prohibited throughout the park.
Bicycles may be ridden only on the Skyline and Service Road trails.
Horses are permitted on designated equestrian trails only.
Firearms or any device capable of harming any person or animal are prohibited, including BB guns, spears, bows, arrows and slingshots.
Stay on designated trails.
All natural and cultural features are protected by law. Do not pick wildflowers, mushrooms or other plants, or remove any park feature. Do not deface rocks with graffiti, or feed, disturb, or harm wildlife.
---
Recreate Responsibly
Before you visit, check the Recreate Responsibly page to protect yourself, family, friends and your community by following these measures during your visit.
---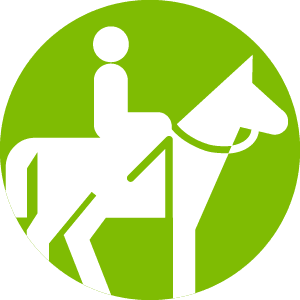 Events at Castle Rock State Park