Half Moon Bay State Beach
Latest News
Roosevelt Beach parking lot, restrooms, and trash cans are closed until further notice due to a culvert failure under the park road. Beach access for pedestrians remains open.
---
About
Four miles of broad, sandy beaches stretch out to welcome visitors to Half Moon Bay. This picturesque setting is ideal for sunbathing, fishing, and picnicking. A campground provides accommodations for those who wish to visit longer.
Learn more in the California State Parks brochure: English | Spanish.
---
Directions
The beach is located a half-mile west of Highway 1 on Kelly Avenue in Half Moon Bay. There are multiple parking and beach access points:
Francis Beach is at the end of Kelly Avenue in the City of Half Moon Bay.
Venice Beach is at the end of Venice Boulevard off Highway 1.
Dunes Beach is at the end of Young Avenue off Highway 1.
Roosevelt Beach connects to Half Moon Bay State Beach via a walking path.
Cowell Ranch Beach is south of the town of Half Moon Bay and is accessible via the Cowell-Purisma Coastal Trail.
By Bus: Take samTrans route 17 to get to the beach.
Take the Santa Cruz METRO – Highway 17 Express to San Jose via SVTC. Walk to San Jose Diridon Station and take the (L1) 123 San Francisco Train. Take Hillsdale exit. Walk to 27th Ave & S El Camino Real. Take the 294 Main/Poplar bus. Exit on main St & Miramontes S. Take the 17 bus on Linda Mar Park & Ride. Exit on Hwy 1 & Spindrift Way. Walk to the beach.
---
Things to do
Beach Area
Swimming is not recommended here because of extremely cold water temperatures and unpredictable rip currents. Surfing conditions here are nearly impossible to forecast because of the unpredictable weather and surf action.
Fishing
From late spring through summer, Half Moon Bay is noted for good runs of surf smelt. Anglers use throw nets and are known to bring along great to catch the striped bass that sometimes follow the smelt.
Hiking Trails
Coastside Trail runs along the eastern boundary of the four beaches providing close to a three-mile stretch to walk, jog or ride bikes. The trail continues north to Pillar Point Harbor.
Horseback Riding
A horse trail parallels Coastside Trail from Roosevelt Beach to Francis Beach. While in the state parks, horses are restricted to the designated horse trail and are not permitted on State Beaches.
Environmental Learning
Visit the Visitor Center for more information.
---
Visitor Center
The Half Moon Bay State Beach Visitor Center is open Saturdays and Sundays. Come on in and learn about the exciting world of the beach and experience the cultural history of the Coastside.
---
Fees and Passes
Parking is available in the Francis Beach lot, Venice Beach lot and Cowell Ranch lot.
Parking is $10 and supports the park. Credit card payments are encouraged.
Annual State Parks passes also are available to purchase at the entrance kiosk.
---
Services
Venice Beach has outside showers, flush toilets and a payphone.
Francis Beach has sand wheelchair available to borrow. Learn more in the Hilltromper Beach Accessibility Guide.
There are no lifeguard stations at Half Moon Bay State Beach.
Picnic Areas
---
Camping
Francis Beach has a campground with 52 individual sites, some suitable for tent camping, others for trailers or recreational vehicles. Although hookups are not available, there is a dump station. Coin-operated hot showers are also available (2 minutes per quarter).
Half Moon Bay State Beach Campground is now on the reservation system. Campsite reservations must be made through ReserveCalifornia, 1-800-444-PARK (7275) or online.
Maximum length for trailers, campers and motorhomes is 40 feet.
View the Francis Beach Campground Map here.
---
Volunteer
There are several ways to get involved at Half Moon Bay State Beach.
Serve as host at the Visitor Center Park Store at this popular beach visited by hundreds of thousands of people each year.
Participate in Plover Watch Program to monitor and protect this endangered shorebird, which nests on the coastal beaches.
Participate in the Beach Restoration Project to remove invasive non-native plants and replace them with natives.
Contact Ranger Nelle Lyons at (650) 726-8804, voice mailbox 7# or email to get involved.
---
History
By the time Europeans arrived here, this area had been occupied for thousands of years by as many as 50 separate and politically autonomous native groups known as the Ohlone. Each group had its own leader, customs and territory, though some smaller groups were connected by shared boundaries, intertribal marriage and similarities of language. In the mid-1700s, Spanish missionaries arrived and drew the native people into the mission system. The decline in the Ohlone way of life began with the loss of their lands and grew rapidly with the introduction of European diseases.
When the gold rush brought immigrants from Mexico and Chile to the area, the area earned the nickname "Spanishtown." Its remarkable diversity began during the late 1800s, when groups arrived from Canada, Italy, Germany, Ireland, China, England, Portugal, Scotland and the Pacific Islands. The first official mention of Half Moon Bay is on an 1854 Coast Survey sketch of Spanishtown. Before Highway 1 was built, Prohibition (1920 to 1933) had caused a proliferation of speakeasies along the coast. This area's hidden coves and thick fog made it perfect for the eagerly awaited ships of Canadian rumrunners to unload their illegal whiskey onto smaller boats headed north to San Francisco.
Cowell Ranch State Beach, the southernmost unit of  Half Moon Bay State Beach, was opened to the public in 1995. The ranch has been farmed since the mid-1800s, first by a 16-year-old immigrant from Germany, but later by Henry Cowell who acquired the property due to foreclosure. When the Cowell Foundation decided to sell the ranch in 1986, it was purchased by the Peninsula Open Space Trust (POST), a nonprofit land trust serving San Mateo and Santa Clara counties. To assure permanent protection for this land, POST sold conservation easements—permanent deed restrictions, which include the development rights on the property—to the California State Coastal Conservancy. POST also donated beach access to the State of California, providing a unique agricultural view trail to the new Cowell Beach. After protecting the land and assuring recreational opportunities, POST sold the ranch to local farmers. Learn more about Cowell Ranch State Beach here.
---
Regulations
Dogs are prohibited on the beaches at all times. They are allowed in the campground, in day-use picnic areas and on the Coastal Trail, provided they are controlled with a leash of no more than 6 feet at all times.
No beach fires are allowed and fireworks are prohibited. Please refrain from removing shells, driftwood and other natural beach features.
Permits are required for all events and weddings. For permit information contact: San Mateo Sector Office at (650) 726-8819.
---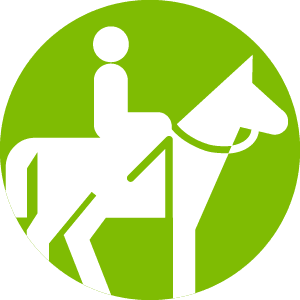 Events at Half Moon Bay State Beach