The purpose of the Edna E. Kimbro Archive is to organize, preserve and protect in perpetuity the resources associated with Edna Kimbro's personal library and research, as well as recently gathered related materials.
Our goal is to make this material accessible to researchers, students, professionals, and the public, and to provide research support to further the study of early California history. Stewards of the Edna E. Kimbro Archive continue to collect, organize, and preserve books, reports, personal papers, oral histories, slides/photographs/videos, digital files, maps and artifacts of enduring value that document the Castro Adobe, the Castro family, other Californio families, Spanish Colonial and Mexican era adobe buildings, and early Santa Cruz, California, Western and Southwestern history and architecture.
Make a donation to support the Edna E. Kimbro Archive.
Edna E. Kimbro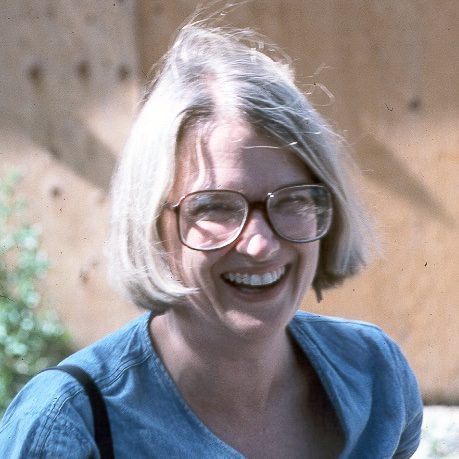 (1948 – 2005)
Edna E. Kimbro was an internationally respected architectural conservator and historian who specialized in the research and preservation of Spanish Colonial and Mexican architecture and the material culture of early California. Edna studied earthen structures at the International Centre for the Study of the Preservation and Restoration of Cultural Property (ICCROM) in Rome, served as a preservation specialist for the Getty Conservation Institute's Getty Seismic Adobe Project, and was a historian for California State Parks where she oversaw the preservation and furnishing of numerous adobe structures in Central California.
Edna lived her passion for adobe buildings, both personally and professionally. She and her husband Joe's first home was the Branciforte Adobe, which they restored. From 1980 to 1991, Edna led the Adobe Coalition, an advocacy group whose goal was to raise public awareness of the Santa Cruz Mission Adobe and to promote its restoration to its original configuration.
She also worked as a consultant on the Mission Adobe, engaging in in-depth historical research and verifying its original use as native housing. She was then instrumental in generating the interpretative/furnishing plan to tell the story of the occupants from its original construction to the 1860s. In 1991 the restored adobe was opened as Santa Cruz Mission State Historic Park.
In 1988, the Kimbros purchased their dream home, the 1850 Rancho San Andrés Castro Adobe, but unfortunately it was severely damaged in the 1989 Loma Prieta Earthquake. In 2002, they transferred title of the adobe and one acre to California State Parks. Edna finished co-authoring the historic structures report for the Castro adobe's restoration in 2005. Edna died in June of 2005 and in 2009, Edna's award-winning book, California Missions: Art, History and Preservation, was completed by her co-author Julia Costello.
The Edna E. Kimbro Archive is housed in the Kimbro House, the new home built by the Kimbros near the adobe. It and the surrounding 10 acres are now owned by Friends of Santa Cruz State Parks, which will house the future Visitor Center for the Castro Adobe State Historic Park.