Rancho del Oso Unit
Latest News
New Welcome Center opens • Camping is back! Horse Camp is open (temporarily) for walk-in and bike-in camping. Make a reservation below.
---
About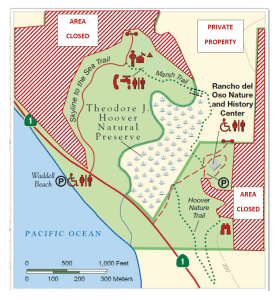 Rancho del Oso is the ocean end of Big Basin Redwoods State Park. Prior to the CZU Lightning Complex Fires, the park offered a variety of recreational opportunities, including hiking, biking and horseback riding. The majority of these trails and activities remain inaccessible due to fire damage.
Waddell Beach, located across Highway 1 from the park entrance, is known worldwide as one of the spots for windsurfing and kite surfing. The steady strong northwest winds and good surf provide ideal conditions for this demanding sport.
The new Rancho del Oso Welcome Center, a gateway to the western coastal side of Big Basin Redwoods State Park, is now open. The new welcome center facility and adjacent public campground will greet visitors to California's oldest state park and largest expanse of old-growth coast redwoods south of San Francisco. The campground includes five campsites that can be reserved and one non-reserved bike-in site.
Learn more in the California State Parks brochure (note, the brochure is not up-to-date with fire impacts).
---
Directions
Drive north from Santa Cruz on Hwy 1 for 17 miles to the Waddell Creek Bridge. Parking is available on both sides of the highway.
By Bus: Take Santa Cruz METRO route 40 from Santa Cruz.
---
Things to do
Welcome Center
The new 684-square-foot Rancho del Oso Welcome Center, with its 480-square-foot observation deck, supports outdoor group programs and general recreational opportunities for the park. The center features interactive and virtual interpretive exhibits, hand-painted murals of the local coastal ecosystem and ocean views.
Camping
The Horse Camp at Rancho Del Oso Unit on the coast side of Big Basin has been rehabilitated and is open for interim walk-in and bike-in, non-equestrian camping. Reservations are required.
The campground will be reinstated as a Horse Camp once equestrian trails have been restored.
Hiking
Take a stroll on the Marsh Trail at Rancho del Oso, the coastal side of Big Basin Redwoods State Park. This short hike (less than a mile!) meanders through the Theodore J. Hoover Nature Preserve. Birdwatch, be on the lookout for lizards and view Waddell Creek. (The seasonal bridge will be removed mid-October.)
Windsurfing and Kite Surfing
Launching from the tops of incoming waves the best windsurfers can complete full loops and continue on their way. With the strong winds and occasionally heavy surf, Waddell Beach is not recommended for novice wind surfers. Regular surfers and boogie boarders also find it an ideal spot to pursue their activities.
Bird Watching and Wildlife Viewing
The Theodore J. Hoover Natural Preserve is great for birders. The Marsh Trail is teeming with life. Rabbits are frequently seen scurrying off the trail, while dragonflies swoop over the water, and birds flit among the willows growing near the creek. Due to the abundance of water, flowering plants have an especially long season here.
---
Visitor Center
The Nature and History Center features interactive exhibits sharing the wonders and diversity of the Waddell Valley. Turn right before the Waddell Beach parking lot, you'll see a sign marked "Rancho del Oso Nature and History Center." The Center is open 12 p.m. to 4 p.m. Saturdays and Sundays.
---
Fees and Passes
Parking is free.
---
Services
Restrooms
Picnic areas
Visitor Center
Accessibility: Wheelchairs can access areas of the wetlands from a paved road.
Docent-led educational programs
No drinking water is available in this park; please bring water with you.
---
Camping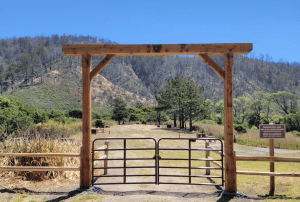 There are currently five walk-in campsites by reservation and one shared non-reserved bike-in site available temporarily at the Rancho del Oso (RDO) Horse Camp. Trails from RDO are closed and were severely damaged in the CZU Lightning Complex Fire in 2020. Trail access north from RDO into Big Basin along the Skyline to the Sea Trail is not expected to be restored for several years making equestrian camping at the site impractical during this interim period. Rancho del Oso Horse Camp is operating as an interim walk-in and bike-in campground until trail access from Rancho del Oso is reopened for equestrian use, at which point the horse camp will be reinstated for equestrian camping.
Check the calendar for campsite availability when planning your itinerary. The calendar is refreshed a few times daily and may not show the latest availability. Make a reservation.

Please Note:
The five reservable campsites are walk-in only. The furthest campsite is approximately 200 feet from the parking area.
Campsites #2 and #4 are generally accessible for people with limited mobility. For accommodations, please call (831) 338-8867 or email trailcamps@thatsmypark.org.
One shared bike-in campsite is available on a first-come, first-served basis. Payment can be onsite via iron ranger envelope or day of only by smartphone or online through this form.
Rules and Regulations
Check-out is at noon. Check-in begins after 2 pm.
Switching sites is not permitted.
No dogs permitted.
No generators permitted.
No smoking.
Beach fires are strictly prohibited.
Fires are permitted in provided rings and BBQ grills only.
Do not gather wood for fires — firewood is available for sale by contacting a staff person.
Ropes, lines, swings and hammocks may not be fastened to any tree.
Games that are disruptive to other campers or to the environment are prohibited. Drones are prohibited.
Radios and other sound-producing devices must not be audible beyond the campers' immediate campsite.
Quiet hours are 10 pm to 6 am.
Speed limit on the campground entry road is 10 MPH.
Campground is crumb clean. Place all food-related items in the food storage locker and all trash securely in the trash bin.
Camping and Reservation Fees
Camp fees are $15.00 per site, per night (maximum 6 people per site)
There also is an $8.00 non-refundable reservation fee that covers processing and any cancellations/adjustments.
You are allowed to reserve up to two campsites per reservation.
Each site you reserve comes with a complimentary parking pass for one (1) vehicle. Extra vehicles are $10 per vehicle per night. Each site can accommodate parking for two (2) vehicles.
Vehicles, including trailers, longer than twenty-one (21) feet are not allowed.
Bike-in camping is $5 per person, per night. Day-of reservations only.
Check-In Procedures
Walk-in campground is by reservation only.
Shared bike-in site is first come, first served.
Place registration confirmation on the dashboard so it's visible.
For extra vehicle payment, use the Iron Ranger — place pay stub on the dashboard, cost is $10/vehicle.
Check-in time is 2 pm and check-out time is noon.
6 people per site and 2 cars per site maximum.
Directions
Waddell Beach and Rancho Del Oso are at 3640 Cabrillo Highway, Davenport, CA 95017. The entrance gate to Rancho del Oso walk-in campground is a yellow gate directly across from the Waddell Beach Parking Lot area and north of the Waddell Creek Bridge.
This is a Crumb Clean Park
Big Basin Redwoods State Park is Crumb Clean! Feeding wildlife is prohibited by law. Dispose of all food and trash properly and don't leave any behind where animals can get to it. Recycle glass, plastic and aluminum. Learn more.
---
Field Trips
Registration for field trips is now open. Sign up!
---
History
Rancho del Oso, a unit of Big Basin State Park, is in the unceded homelands of the Awaswas-speaking Ohlone Tribe known as the Cotoni and Quiroste, who stewarded these lands since time immemorial. Centuries of colonial violence led to the removal and displacement of the Cotoni and Quiroste. Today, their descendants continue their stewardship and presence here, in partnership with State Parks.
Rancho del Oso is a site rich in cultural and natural history. The area was frequented by Native Americans (most likely the Awaswas clan of Ohlone Costanoan), who managed the land in order to benefit from the bountiful landscape and encourage the proliferation of game.
In 1912, Theodore Hoover (Dean of Engineering at Stanford and brother of President Herbert Hoover) bought a majority of the Waddell Valley from more than a dozen small landowners. Hoover built the "Brown House" in 1913 as a family vacation house (a role it still serves) and named his holdings Rancho del Oso. In 1925 he built a large Spanish-style residence, the "Casa," for his family across the creek from the Brown House. Although the Casa was destroyed by fire in 1959, several of Theodore Hoover's heirs still have residences at Rancho del Oso.
California State Parks acquired approximately two-thirds of the original Rancho del Oso land including Waddell Beach, from Hoover's daughters in 1977. This enabled the completion of the Skyline-to-the-Sea Trail.
In 1985 Hulda Hoover McLean sold her personal residence and its 40-acre lot to the Sempervirens Fund, intent on creating a place to share the wonders of the natural world with others. After some minor renovations, it was passed on to California State Parks for use as the Rancho del Oso Nature and History Center. She was very active in organizing the Waddell Creek Association, which helps support the volunteer and educational programs at Rancho del Oso, and served on its board of directors well into her 90s. She died in 2006 at the age of 100.
---
Regulations
Dogs are not allowed in any portion of Rancho del Oso.
---
Recreate Responsibly
Before you visit, check the Recreate Responsibly page to protect yourself, family, friends and your community by following these measures during your visit.
---
More Info
(831) 427-2288 (weekends only)


Events at Rancho del Oso Unit