Natural Bridges State Beach
About
Natural Bridges State Beach is world-renowned for its yearly migration of monarch butterflies. Visitors can see thousands during the butterflies' peak season. The best time to see monarchs in the park is usually from mid-October to late January. However, the local monarch population has been on the decline. State Parks is working on projects designed to support monarch habitat at both Natural Bridges and Lighthouse Field, including coastal wetland restoration, flood prevention, trail improvements, eucalyptus regeneration and the implementation of a Crumb Clean campaign to reduce predatory yellow jacket infestations. Learn more.
This beach, with its famous natural bridge, is an excellent vantage point for viewing shore birds, migrating whales, and seals and otters playing offshore. Further along the beach, tidepools offer a glimpse of life beneath the sea. Low tides reveal sea stars, crabs, sea anemones, and other colorful ocean life. The park also includes a large area of coastal scrub and grasslands, with bright native wildflowers in the spring. Moore Creek flows through the park, forming freshwater wetlands and a salt marsh before it reaches the sea.
Learn more in the California State Parks brochure.
Construction is happening to make accessibility improvements at Natural Bridges! Once this year-long, multi-phase project is finished, Natural Bridges will have several new ADA-compliant and accessible features. The Visitor Center and ParkStore are open during construction!
---
Directions
Take Swift Street west from Highway 1, or follow West Cliff Drive north along the bluffs until it ends at Natural Bridges.
By bus: Take the Santa Cruz METRO 18 – Mission to UCSC via Main Gate. Exit on Mission & Olive. Take the Santa Cruz METRO 22 – Almar/Bay to Coastal Campus. Exit on Delaware Ave & Natural Bridges Dr. Walk to Natural Bridges State Beach.
---
Things to do
Beach Area
Visitors enjoy surfing, boogie boarding, swimming and sunbathing. The beach is large enough for games and flying kites. At low tide, tidepools are visible. Docents lead tidepool explorations at low tide year-round.
Wildlife Viewing
Visit the Monarch Butterfly Natural Preserve to see migrating butterflies. Guided tours are offered at 11 a.m. and 2 p.m. on weekends during the fall and winter.
Picnic Area
A picnic area is located off the main parking lot in a eucalyptus and pine trees grove. Tables, barbecues, water faucets and restroom facilities are available.
Hiking Trails
Stroll through the the Moore Creek Wetlands Preserve
Accessibility
Beach wheelchairs are available for use on Friday, Saturday and Sunday. Reservations are recommended. Contact the State Park Special Events Office at SCD.specialevents@parks.ca.gov or 831-335-8487, Monday to Thursday excluding holidays, between 8:00 am and 4:30 pm. Email is preferred.
---
Visitor Center
The Visitor Center features displays on the monarch butterflies and other features of the park. An aquarium features animals found in the tidepools. A video is available for viewing. The Visitor Center is open Thursday to Monday from 11 a.m. to 4 p.m.
---
ParkStore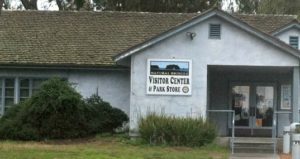 The ParkStore is now open! Or shop online! 
The ParkStore at Natural Bridges, housed within the Visitor Center, echoes the themes of the center's natural history exhibits. The ParkStore is open Thursday to Monday from 11 a.m. to 4 p.m.
The Natural Bridges ParkStore sells merchandise that celebrates two of the park's most prominent features: monarch butterflies and tidepools. It also carries a selection of educational books for kids, field guides, local history books,and general interest books about butterflies, birds, the ocean, conservation, citizen science and other relevant subjects. The store offers t-shirts, hats, souvenirs and fine art prints featuring Michael Schwab's iconic Natural Bridges image.
---
Fees and Passes
Parking is $10 and supports the park. Credit card payments are encouraged.
Annual State Parks passes also are available to purchase at the entrance kiosk.
---
Field Trips
Registration for field trips is now open. Sign up!
---
Volunteer
Natural Bridges State Beach recruits volunteer docents to lead butterfly tours in the fall and winter and tidepool walks in the spring and summer for school groups and other visitors. Email or call 831-423-4609 x8 for information.
---
History
Natural Bridges State Beach is in the unceded homelands of the Awaswas-speaking Ohlone Tribe known as the Uypi, who stewarded these lands since time immemorial. Centuries of colonial violence led to the removal and displacement of the Uypi. Today, their descendants continue their stewardship and presence here, in partnership with State Parks.
Natural Bridges State Beach is named for three naturally occurring arches that were once part of a large cliff that jutted out into the sea. The bridges formed as wave power eroded the mudstone, deepening depressions in the cliff that grew until the rock formed a cave, and eventually, a bridge.
Of the three original arches, only the middle one remains. The outermost arch fell during the early 20th century, and the inner arch collapsed during the 1980 storm.
---
Regulations
Dogs are allowed on leashes no longer than 6 feet only on paved roads and in parking lot.
Bicycles are permitted on paved roads.
Fires are not allowed on the beach.
Alcohol is not allowed on the beach or in day-use areas.
Do not smoke, ride bikes, roller skate, skateboard or speak loudly in the monarch butterfly grove.
---
Recreate Responsibly
Before you visit, check the Recreate Responsibly page to protect yourself, family, friends and your community by following these measures during your visit.
---






Events at Natural Bridges State Beach